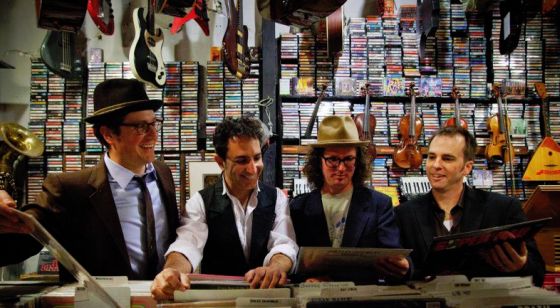 49 square miles. Water on three sides. Two bridges. And one champion of powerpop — The Real Numbers.
"Welcome to the Numberhood" is a great first album and does what it promises. Tuneful, happy power pop of the highest order that leaves you wanting more. Much more."
— Pop Underground
Part power pop, part geek rock, The Real Numbers specialize in well-crafted compositions with powerful hooks, lush chords and heaps of harmony. The songwriting duo of Dave Ambrose and Lawrence Grodeska founded the band in 2008 with a shared musical vision of concise, well-crafted pop rock compositions. That vision was fully realized with the additions of San Francisco pop maestro Chuck Lindo on bass and harmonies, and powerhouse percussionist Adam White punctuating the band's tight, tasty arrangements.
The Real Numbers, conjure an era of songwriting that may have come and gone from commercial airwaves, but is still carried on by the likes of Fountains of Wayne, Ben Folds and Fastball. Not afraid to embrace their geekdom or plant tongue firmly in cheek, their smart yet smart-ass lyrics make mundane observations meaningful, amusing or both. All the while, their catchy melodies stick like peanut butter to the roof of your skull.
The Real Numbers are also responsible for "Do the Wiggle!," a clever pop-paean to San Francisco's most famous bicycle route–a one-mile, zig-zagging course from Market Street to Golden Gate Park in San Francisco that minimizes hilly inclines for bicyclists. Half PSA, half goofy love letter to the beloved bikeway, the video has been featured on SFist, SF Weekly and The Huffington Post, along with a live performance by The Real Numbers during a charming appearance on KFOG's World Famous Morning Show.